Scout Elves are Santa's special helpers who visit during the holiday season. But what if your family has Christmas travel plans—will you still get to see your favourite seasonal visitor? Your Scout Elf's most important holiday duty is visiting your family and reporting to Santa, so of course they're happy to fulfil their duties wherever you may be! Here is some key info to read about travelling with The Elf on the Shelf®, as well as some top tips for making your Christmas holiday with your Scout Elf as seamless as possible.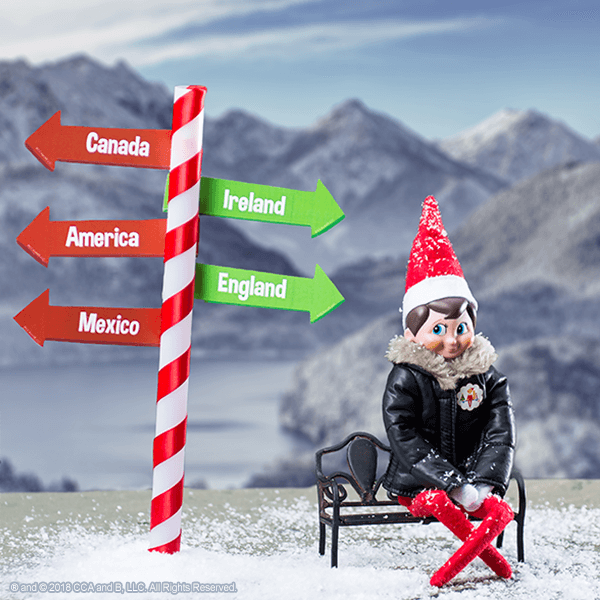 Travelling with The Elf on the Shelf®
How will our Scout Elf find us?

If you're travelling, kids may wonder how your elf found you so quickly. It's because Scout Elves have an excellent sense of direction, and they are able to find you through high-tech North Pole monitoring systems. Similar to how your elf knows just how to fly to your home, your elf will have no trouble using their keen sense of direction to locate your holiday destination. If they'd like, children can send a special invitation to their elf with all your travel details!

Come prepared.

Pack items just for your elf so you are prepared when your elf shows up. Your elf typically brings their own ideas and hiding spots, but when you're on holiday, they may not have access to all the same items they did at your home. By travelling with these handy printables, your elf can choose one and follow the instructions to create an easy surprise for you.

Follow the theme.

When elves go on holiday they love to play up the theme by lounging in a hammock made out of a bandanna or packing their own box of clothes made to look like a suitcase. Children will love seeing what their elf is like while relaxing on holiday with your family!

Will our Scout Elf still visit our home?

If your Scout Elf is unable to come on your holiday, they will most likely still see your family during the season when you return home.

Do all elves go on vacations?

It's important to remember that elves are only able to come on vacations if they're not part of a special mission at the North Pole. Depending on the length of the trip, your Scout Elf's North Pole duties, availability to travel and more, your elf may not be able to make your holiday.
Learn everything you can about Scout Elves, so you'll be an expert in North Pole Knowledge!